FACES BEHIND THE CHHAU MASK- CHARIDA A VILLAGE OF MASK ART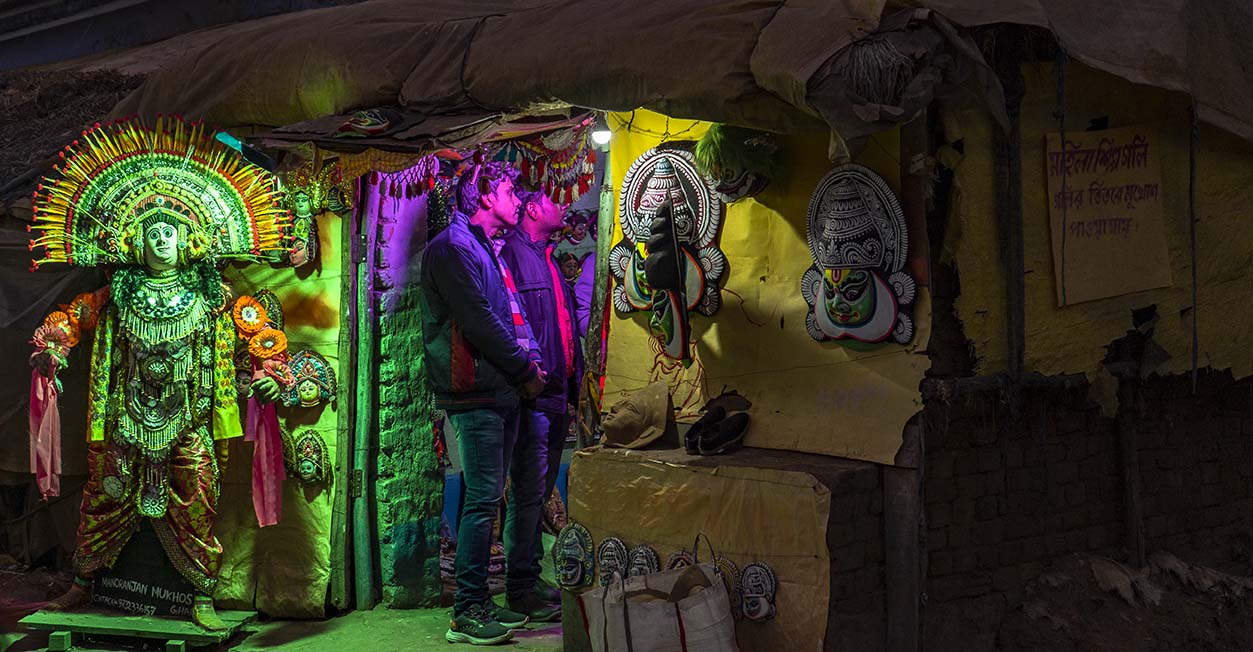 Folk dance 'Chhau' is a fusion of martial art, tribal dance forms, classical dance forms, and acrobats. In 2010, it was included in the UNESCO's Representative List of Intangible Cultural Heritage of Humanity. It also got a GI Tag.
There are three genres of Chhau and those are: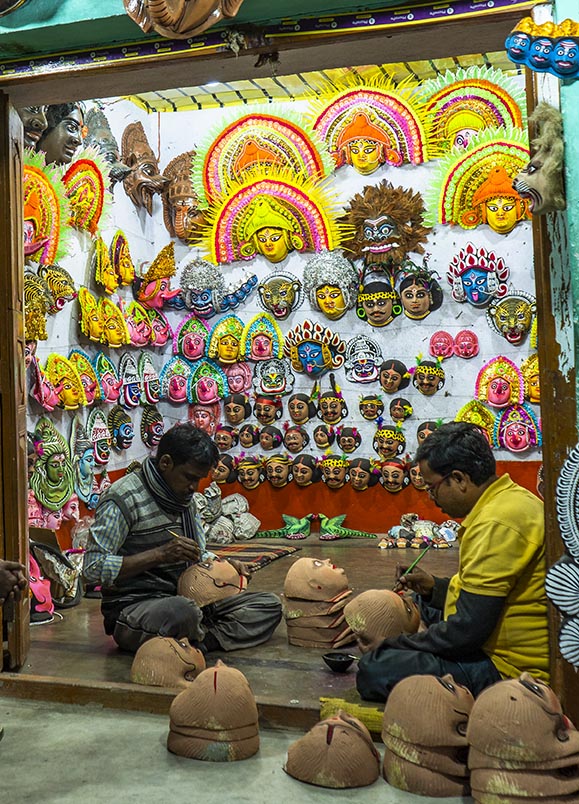 Purulia Chhau

Seraikella Chhau

Mayurbhanj Chhau
Masks are at the heart of Chhau dance. Charida village in Purulia, surrounded by hills and forests, is the main hub of the Chhau mask making community called Sutradhar.
Which materials are used?
Like any other folk artists, the Chhau mask makers of Charida procure the essential raw materials from local sources. Essential materials are water, clay, beads,varnish, vibrant colors, adhesives, paper, coal ash,pieces of clothes,peacock plume, leaves etc.
It takes 4-5 days to complete one mask for one family.
What is the lifespan of a Chhau mask?
Average 50 years.
What important things to note before purchase?
Chhau artists generally classify the masks into two categories – dance mask and home decor masks.
From our observation Chhau dance masks look epic and a must collect.
What art and craft items should you collect from Charida ?
There are different types of masks used for different types of dances and hindu mythology characters which you may collect as per your choice:
Babu Masks: Masks of Hindu gods Shiva, Narayana, Ganesha, Kartik and Krishna.

Bir Masks: Masks of demons like Ravana, Mahishassur, Tarakasur, Sumbha and Nishumbha etc.

Nari Masks: Masks of women characters including hindu goddesses Durga, Lakshmi, Saraswati and Sita

Bhoot Masks: Masks of ghosts and spirits

Animal masks: Masks of animal vahanas of hindu god and goddesses, the apes from Ramayana – Bali and Sugrib and other animals.

Bird Masks: masks of the bird vahanas of hindu gods and goddesses, the fighter bird Jatayu from Ramayana etc.
What is the history of Chhau?
The ancestors of Sutradhars(Hindu Pandits) lived in Bardhaman. Around 150 years ago, the then king of Bagmundi, Madan Mohan Singh Deo, brought them to Charida to make new idols of deities worshiped at his palace.
Famous artists of Charida?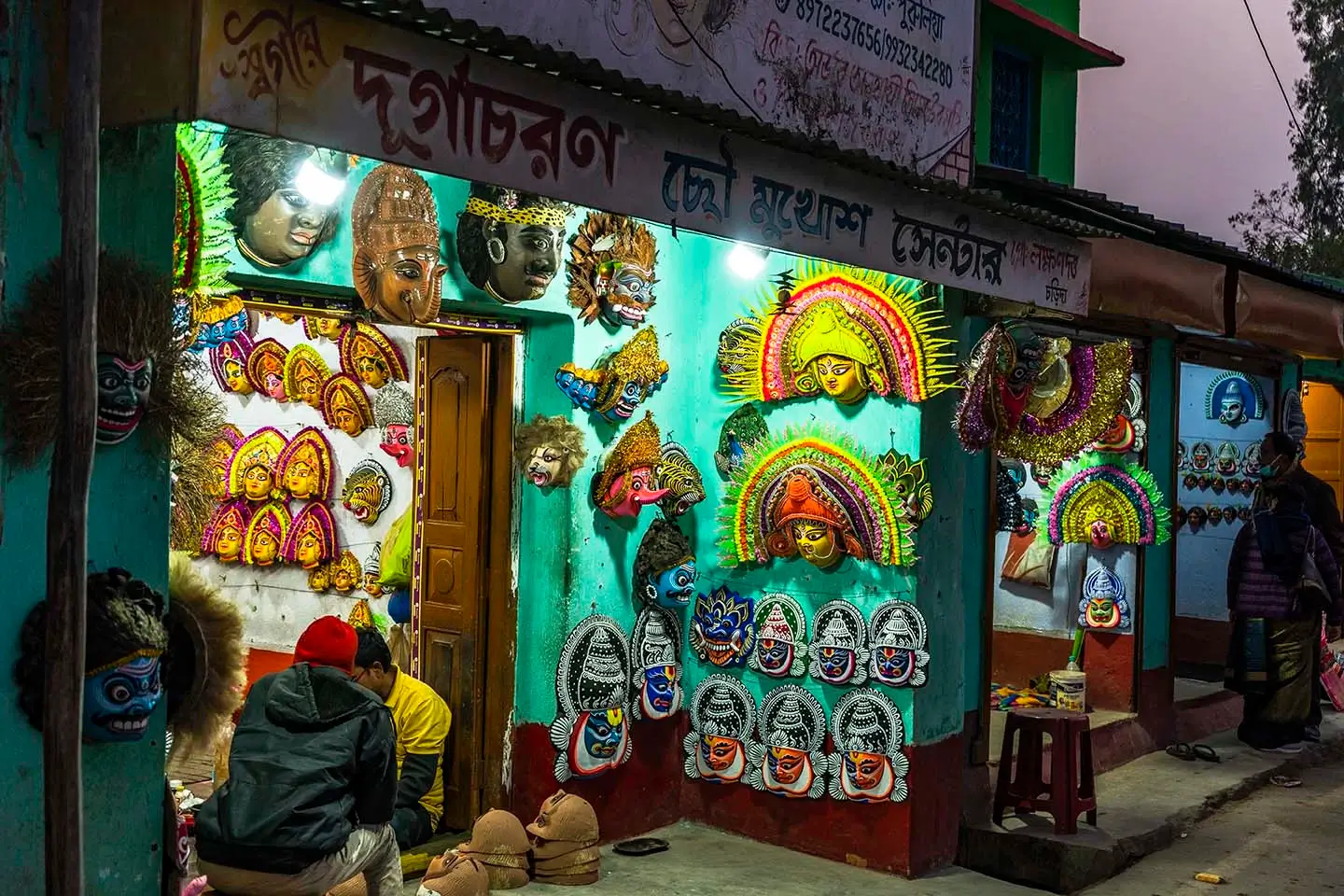 The internationally renowned Chhau exponent and Padma Sheree - Gambhir Singh Mura was from Charida.
From a traveller's view: We were overwhelmed and lost at the first glimpse itself. Artists are painting and making masks in their studios situated on both sides of the road, kids are learning from their parents and you can see the joy of creation in their eyes. Their struggle of life is clearly visible but the wealth of their inner happiness is priceless. Charida looks like a never-ending village fair - a fair of colorful mythological folktales where deities have come down to the earth as common people to share their stories of sorrow and joy with you and me.
Attribution: Special thanks to "Mukhosh Ghor", Mask museum of Charida for content info.
External Refferences:
https://en.wikipedia.org/wiki/Chhau_dance